EBM-BP is a pioneer in this regard, as before that, no such benchmark was available in the region against which any organization can reliably benchmark their own KPIs. This initiative by EBM was well supported by and in alignment with the policy of the UAE Government and its Leaders to promote Excellence and Best Practices in Businesses or all other Processes of any Organisation.
EBM-BP provides various Key Performance Measures (KPMs) that are grouped logically into various Key Performance Indicators (KPIs) and Key Result Areas (KRA).
There are more than 150 KPMs, and growing, grouped into various KRAs based on various Business Excellence Criteria Groups such as: Customer Perception Results, Customer Indicator Results, Employee Perception Results, Employee Indicator Results, Society Perception Results, Society Performance Results, Financial Outcome Results, Financial Performance Results, Marketplace Results, & Process Improvement Results. The data is classified into Business Verticals including: Manufacturing, Trading, Hospitality, Contracting, Service, Government, etc.
EBM-BP Partners can subscribe to any of KPMs and Benchmark their Multiple Year Data against the Industry Standard for any particular KPM. Of course, they have to share their own data to be able to do so. An example of EBM-Benchmarking Chart is as under: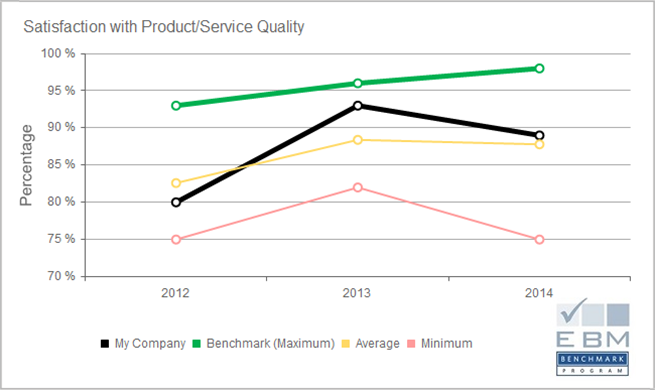 EBM-BP endeavours to help Organizations adapt to market dynamics with the intent to enhance Productivity, Knowledge Management, Quality Improvement and overall Business Excellence through Benchmarking and Sharing of Best Practices. EBM & BED lead the Benchmarking Process, facilitate meetings between Member Organizations as and when needed, Organize Site Visits as and when needed, Develop a Database of Benchmarking Data, Generate Reports, Facilitate an Annual Benchmarking Forum, Publish a Quarterly Periodical, etc.
Benchmarking is proving be a very powerful tool of Business Excellence and helping a long way in improving an organisation's KPIs, and making not just incremental improvement, but also breakthrough improvements.
For more details, visit website:
http://www.ebmbenchmarking.com/
read less